Video editing usually requires special software, but some great online tools are just as useful unless, of course, you can find them. We watched online editors on the Internet that would enhance your video and sound without having to install applications.
The quality of online tools varies greatly, so here we have selected the best online editors available today. You can choose the most convenient option for you, as well as the one that will satisfy all your needs.
The advantages of the video today:
Easy and quick perception, because most people are visuals,
Popularity on the Internet, so more than 50% of Internet users watch at least one video every day.
It became possible to shoot high-resolution video from mobile devices, which are always at hand.
In other words, the popularity of video content makes experts, consultants, and other professionals working over the Internet to shoot video. Therefore, for everyone who is interested in online video editing services, this list will be useful.
This Chrome browser-exclusive service offers all the basic features that a video editor should have. It features an intuitive interface with the ability to drag and drop all the necessary objects directly onto the storyboard. If you are registered, then all changes will be saved. The finished video can be downloaded to a computer or downloaded to the social network.
The service provides lots of good templates: some of them are pretty neutral and are suitable for social videos. You can change the text for each of the slides or fragments of the video, and the rest will be done following the template.
For video, cropping, frame rotation, color balancing, background selection, as well as various filters and transitions, are available. You can easily add text to the video by selecting its font, size, and color. FlexClip can work with MP4, MOV, and WEBM formats.
The service is available completely free of charge, but when using stock media files, the FlexClip watermark will be applied to the video. In addition, the videos can be saved only in the SD format (480p). Buying a premium account removes all restrictions and allows you to export video in 720p and 1080p quality.
Wevideo
Wevideo is also an excellent full-fledged online editor that will help you quickly edit a video or create a short video for free. You can upload content, transfer it from the "cloud" or record video and audio directly from a webcam and microphone. You will not find this function in any other online editor. You do not have to wait long, tapping your fingers on the table if you upload a large video file; it will continue processing in the background while you get started.
There is a large selection of themes that will enhance your creations, with automatic transitions and effects, and you get 1 GB of storage in the cloud.
WeVideo is powerful, easy to use, and gives excellent results, although the free version has some limitations. Each account is limited to publishing five minutes of video per minute at a maximum resolution of 480p. Your videos will also be watermarked.
Kizoa
Kizoa service offers users to create Internet videos or animated slide shows. The kit includes both the creation of video collages and a simple video editor. The raw video can be cut into fragments – clips to paste into the video, or simply trim at the beginning or end.
Kizoa offers for creating video shortcuts and stickers, which is very popular nowadays for creating stories on Instagram. It also provides a large selection of backgrounds, beautiful transitions, and visual effects. Besides, there are topics (models) for various life events, as well as neutral ones for the business. It is noteworthy that even in the free version, it provides the ability to create square and vertical videos.
You can use free downloads up to 1 GB, maximum video download 2 minutes. When downloading, the quality is acceptable – an average of 720, but a watermark looms in the upper left corner.
It is worth noting that this service pays for a lifetime membership in Kizoa for at least five years. And the "Premium" option provides 10 GB of memory, no watermark, video download up to 10 minutes, and 720HD quality. And all this for 299.99 dollars.
Hippo Video
This service allows you to upload video files up to 500 MB in volume or work with video recorded directly from your PC's webcam. You can import videos for editing both from the computer's memory and from Google Drive, which is very convenient.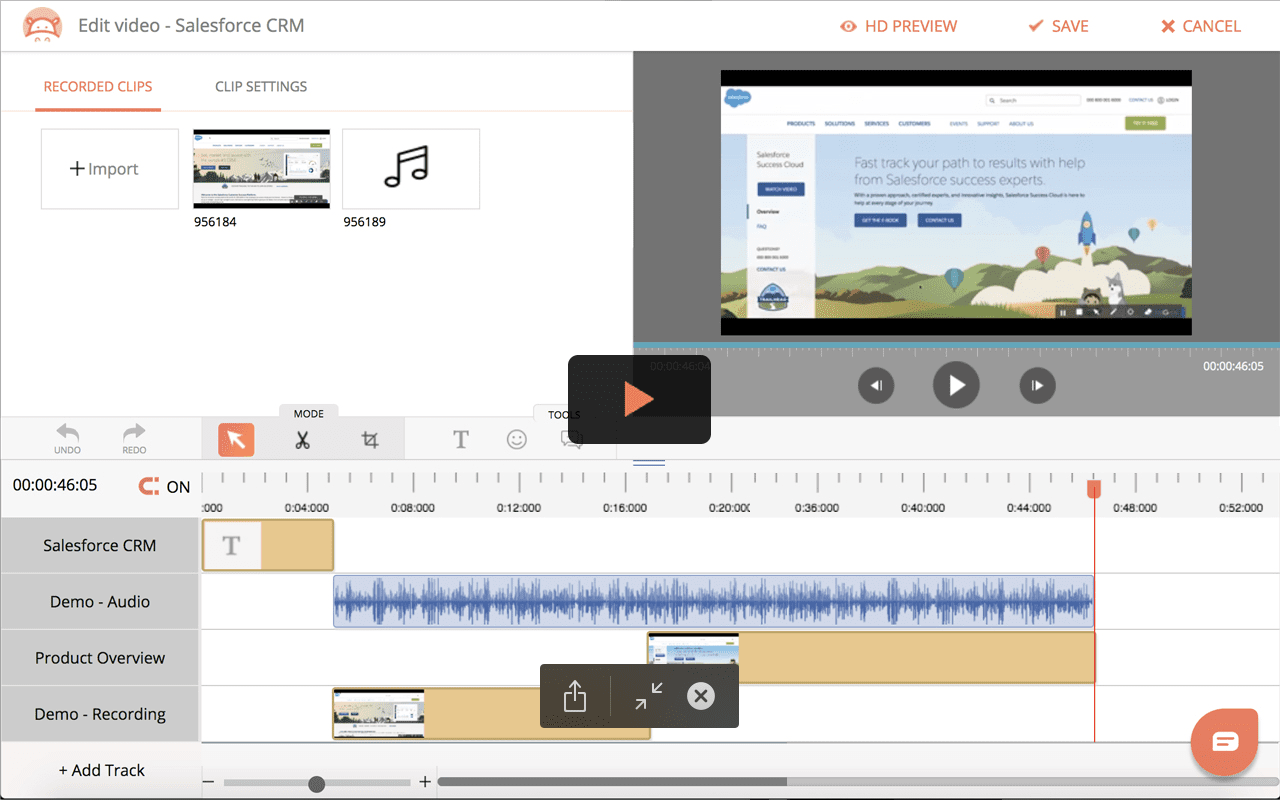 Hippo Video also supports the drag-and-drop function, which is available even when downloading media files. You can transfer the desired track or video by simply dragging it from the folder on your PC to the browser's import window. Of the unusual features, we can add the addition of interactive footnotes that allow you to "draw" someone a phrase, as well as the function of creating GIF animations. You can export videos directly to YouTube, Vimeo, or Google Drive. You can also share it with friends using a simple link.
In terms of formats, the service is unpretentious: you can use MP4, MKV, FLV, 3GP, and MPG. In any case, the resolution of the video is selected even before the start of editing. At a free rate, you can save as 720p, but the video's duration should not exceed one hour.
Hippo Video is not tied to a specific browser. However, when using Chrome, you will have an additional option to record video from the screen, which is useful when creating training videos.